Performance Follower
Details

Created: Wednesday, 23 April 2014 10:16
The woman and her bot - performance For Bookings
A lady and her robot are traversing the public street.
We throw a glance in the near future when the robot will be our companion.
The presence of the robot is fragile and carefull of nature, but sometimes wild and unpredictable.
Robot
Two spoke-wheels with a diameter 3,5 meters. Controlled by sensor-electronics. The driving and steering mechanism is based on the displacement of the centre of mass. The dimensions: height and depht 3,5 meters, Width 2,9 meters.
The performance
The couple crosses the public space. Coincidental encounters will lead to improvisation and interaction with the audience.
Performing details
Each roudtrip takes about 1 hour, with a maximum of 3 per location.
Lights: the robot carries it's own lights during the evening.
Dimensions: height and depht 3,5 meters, width 2,9 meters.
Construction time 1,5 hours. Deconstruction time 1 hour.
The surface preferably as flat as possible: stone, concrete, firm grass. Maximum slope of surface 10 degrees.
Technical provisions: 220 volt for the charging (available overnight if performing multiple days).
No special transport needed. Attention for the right permissions if crossing public spaces with extended traffic.
Technical rider link
Construction
The robot is designed and constructed by Pieter Verhees. The electronics and software are based on the Arduino platform. The wireless transmission is done bij Zigbee technology. The robot is foldable to fit in the back of a stationcar.
Performance
Media
For Bookings

Playlist
Straattheaterfestival Woerden 25-06-2016
Wonderstroom Vlissingen 13 december 2015
Genk (Belgie) 27 december 2015
Limburg Festival 29 augustus 2015
Straattheater Festival Waalwijk 26 april 2015 13.00 - 17.00
11 till 14 september 2014 - Gogbot Festival Enschede
August 2014 YOUrban/PLAYUR, Oslo School of Architecture and Design
Oerol 2014
PlayfulArts Festival 2014
Kunstnacht 's-Hertogenbosch 2013
Festival Boulevard 2013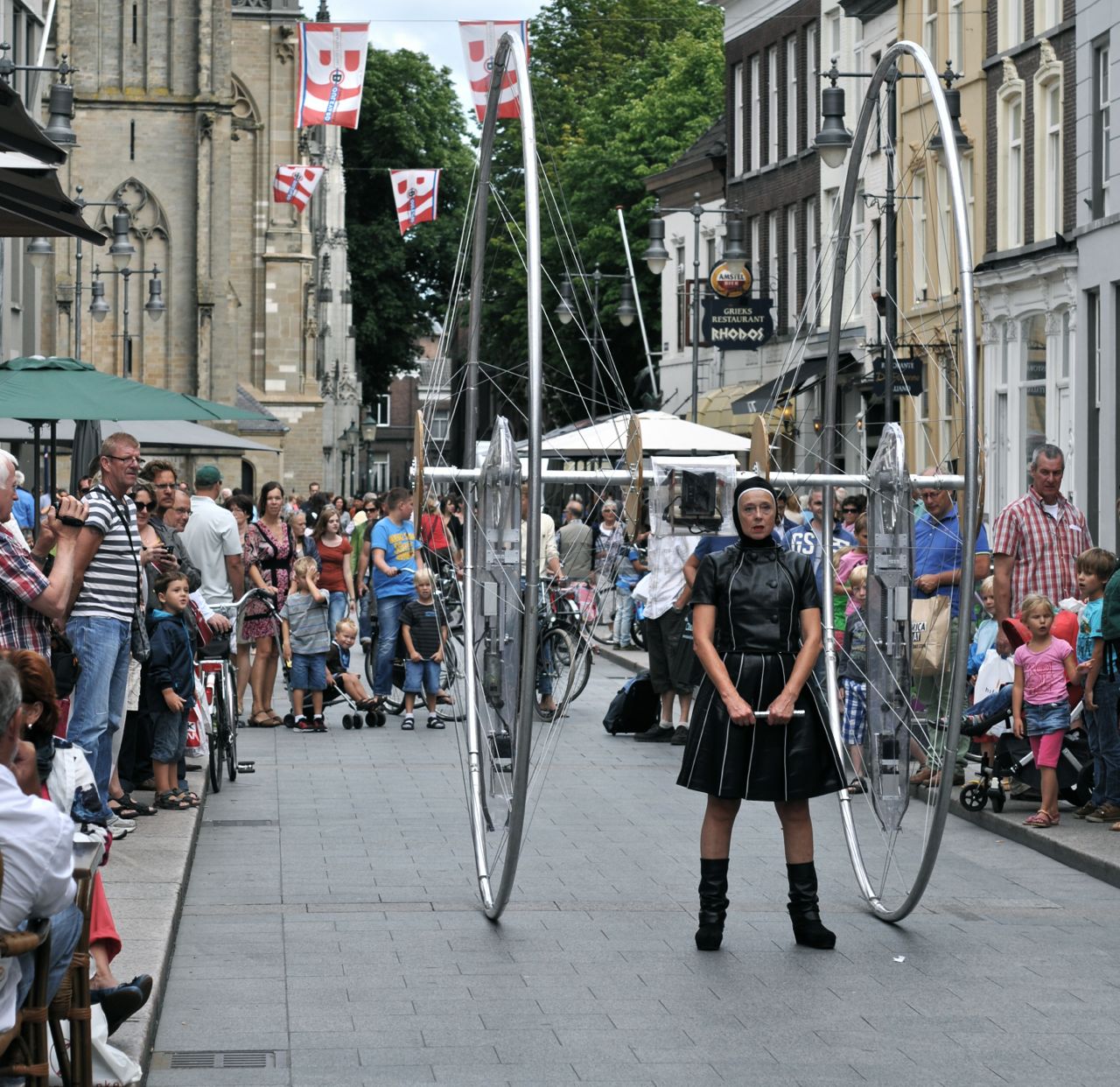 Previous picture by Karin Jonkers
Bewaren